UEFA are reportedly considering stripping Russia of the Champions League final
European football's most awaited match is due to be held in St Petersburg in May
Russian state energy outfit Gazprom pays £30 Million a year to sponsor the CL
Russia has ordered troops into two rebel-held regions of Ukraine and there are fears an invasion is planned. Several countries, including the UK, have introduced sanctions against Russia in response to the move.
UK Prime Minister Boris Johnson, speaking in the House of Commons on Tuesday, said there was "no chance of holding football tournaments in a Russia that invades sovereign countries".
UEFA said it was "closely monitoring the situation" and "any decision would be made in due course if necessary".
Since discussions on the subject have apparently been going on for some days, you would imagine the question of whether Russia gets to stage the Champions League final, at the St Petersburg stadium, would have been resolved by UEFA now. However, in football, money talks and any notion of a moral compass has vanished. UEFA, like so many other businesses in football, are biased as they are up to their neck in Russian money.
The Russian state energy outfit Gazprom pays £30million a year to sponsor the Champions League and last summer announced an expansion of that deal to include the European Championship and the Champions and Europa Leagues.
It also holds the naming rights for the stadium at which the final is due to be played, the Gazprom Arena in St. Petersburg.
While millions of people all over the world are extravagantly mad at Putin's annexation of a free, independent sovereign nation, UEFA are just hoping that the strength of England's football teams will come to their help. If all the four English teams make the semis, they might just get away with moving the final to England.
UEFA is set to be looking for a new venue at short notice for the third year running. The 2021 final – which saw Chelsea defeat Manchester City – was also set to be played in Saint Petersburg, but was eventually held in Porto due to Covid travel restrictions. Due to Covid-19 restrictions, the 2020 final was moved from Istanbul to Lisbon, where Bayern Munich beat Paris Saint-Germain.
It is understood that the game will still be played on Saturday, 28 May, which is likely to rule the Wembley Stadium out as a host as the League Two and Championship play-off finals are set to be played at the stadium over that weekend.
Zinchenko: My country belongs to Ukrainians
Manchester City defender Oleksandr Zinchenko has said that nobody "will ever be able to appropriate" Ukraine.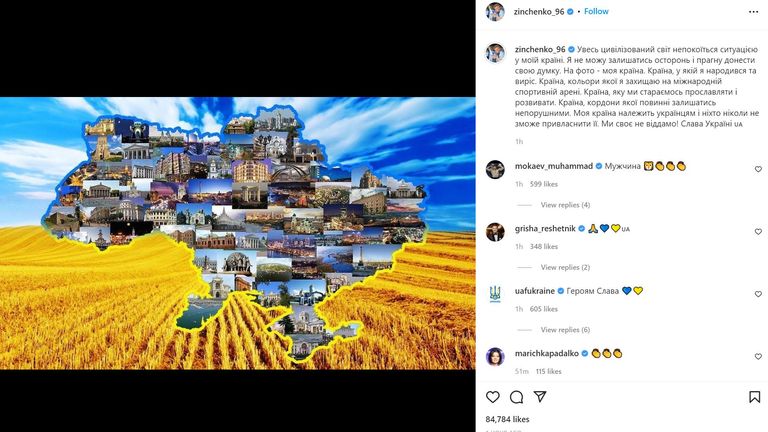 He said: "The whole civilized world is concerned about the situation in my country. I cannot stand aside and I would like to share my opinion. My country is in this picture. The country where I was born and grew up. The country whose colors I defend on the international sporting stage. The country that we try to glorify and develop. The country whose borders must remain inviolable. My country belongs to the Ukrainians and nobody will ever be able to appropriate it. We will not give up what is ours! Glory to Ukraine!"