Lionel Messi has been handed a two-game ban from the Spanish Football Federation's Competition Committee for his red card in last Sunday's Supercopa de Espana final.
The Argentine will therefore be unavailable for The Catalans next two fixtures against Cornella in the Copa del Rey and Elche in La Liga.
Messi, who swiped at Athletic Club striker Asier Villalibre in the final minute of extra time, has not been given a longer ban due to Jesus Gil Manzano's match report not mentioning that it had been a sign of aggression. Thus, he avoided a ban which could have gone up to 12 matches.
"In the 120th minute, player (10) Lionel Messi was sent off for the following reason: Hitting an opponent with his arm using excessive force while the ball was in play but not within playing distance", the referee wrote in the minutes.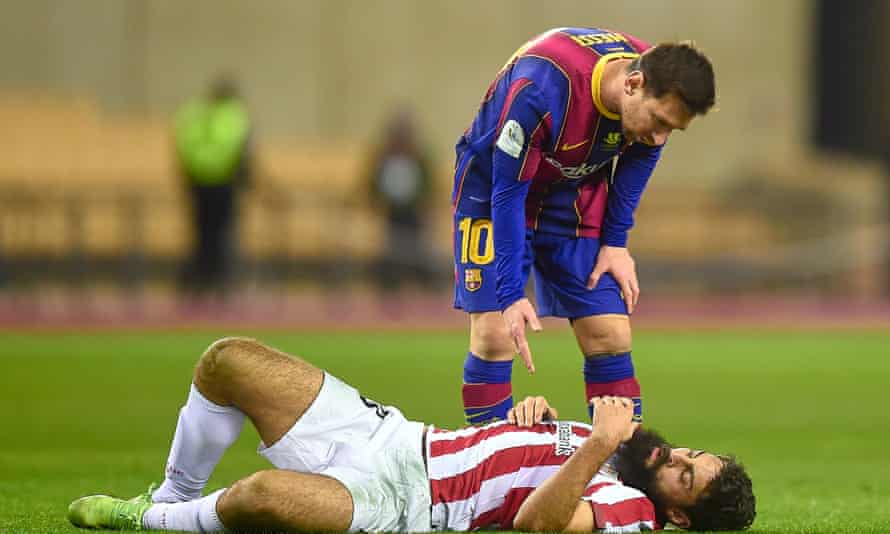 This was Messi's first sending off for Barcelona in 754 games. According to Deportes Cuatro, Messi was extremest despondent in the dressing room after the game and disappointed as to what happened, apologising to his teammates for the red card he was shown.
If the Catalan giants advance past Cornella in the Copa, he will return in time for the last-16 tie. Should they lose, however, Messi would curiously return in time to face Athletic Club at the Camp Nou in LaLiga Santander. Barcelona's last two matches without Messi both ended in a draw: against Eibar in the league and against Real Sociedad in the Supercopa semi-finals.
The Barcelona manager had this to say about the red card after the game:
"I don't know how many times they fouled him, and it's normal to react when they keep trying to foul you as a player who is looking to dribble with the ball, but I need to see it again properly."